Pick Your Own
Just Pay + Pick-Your-Own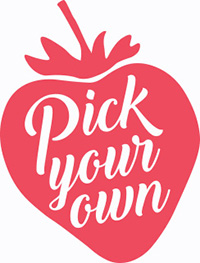 Simply pay upon entry per person to enter the picking area, collect your strawberry punnet and you are ready to start picking. Follow the flags to the ripest berries in the field.
Note: everyone who enters the strawberry picking area must pay an entry fee and you will receive a punnet to fill when picking. Your strawberries are pre paid. 
(Total pricing as follows…)
Adults: $6 = 500gm punnet – or upsize to 1kg punnet for $9
Children: $3 = 250gm punnet (3-12 yrs.  Under 3yrs are free)
(We supply punnets.  We require all entrants over age of 3 to the picking area to have their own punnet. We welcome you to bring back our punnets to REUSE on your next visits) #keeptubs
1kg Fresh pre-picked punnets $12 pnt ~ available this Wednesday, Thursday and Friday
_________________________________________________________________________
🍓 FREE PICKING UPSIZE!! 🍓
To spread some good vibes… We are running our promotion this Thursday 19th and Friday 20th March
~ FREE PICKING UPSIZE! ~
We have lots of delicious strawberries ready for the picking
---
Pick 1kg for $6!
Free upsize pricing:  Children $3 ~with FREE UPSIZE can pick 500gm
Adults $6 ~ with FREE UPSIZE can pick 1kg
Pay upon entry to picking area (includes the strawberries you pick)
Pick them, freeze them, have them anytime you need them 🍓
Happy Picking!
(children to picking area aged 3-12yrs = $3 , under 3 not picking are free)